Music is an integral part of worship at First Church! For many people, music quenches the longings of the soul and brings us into closer into communion with God.
Whether you are a singer in the shower or a virtuoso, there are multiple opportunities to deepen your skills and share your gifts with the First Church community!
Even in these times of social distancing, you can still connect musically with us! Learn more below, and please contact Director of Music Derek Tam for more information.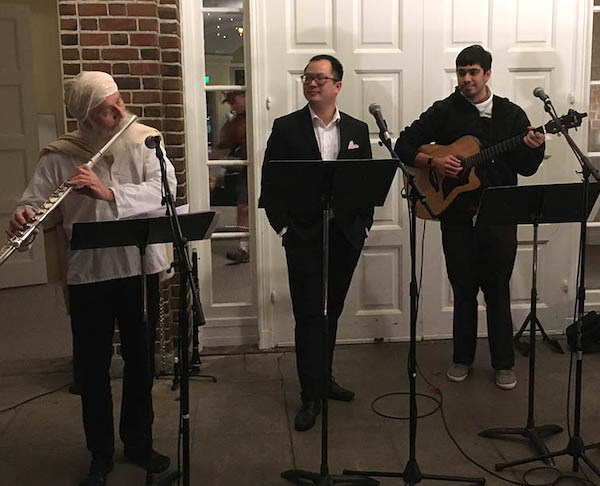 Sanctuary Choir
Sing everything from Bach to Broadway in four-part harmony! While the ability to read music is encouraged, all are welcome and Derek periodically offers sight singing workshops.
From September through May, the Sanctuary Choir sings in most Sunday worship services and rehearses 7:00 p.m. to 9:00 p.m. on Thursdays in the Sanctuary.
The Sanctuary Choir will gather on Zoom from 7:15 p.m. to 8:00 p.m. on Thursdays, starting September 17.
Gospel Choir
Nourish your soul singing gospel standards, from spirituals to contemporary classics! We learn by listening as well as through sheet music—beginner's welcome.
From September through May, the Gospel Choir rehearses after worship in the Sanctuary on the second and fourth Sundays of each month and sings in worship approximately once every six weeks.
The Gospel Choir will gather on Zoom from 7:15 p.m. to 8:00 p.m. on Thursdays, starting September 17.
Bell Choir
Ring your soul's bell playing with the Bell Choir, led by Jim Coates. No experience necessary, except for a willingness to learn! All ages are welcome.
From September through May, the Bell Choir rehearses on Thursdays from 7:00 p.m. to 8:00 p.m. in the Pillar Room. The Bell Choir shares music in worship about once every two to three months.
The Bell Choir will meet on Zoom occasionally in the Fall.
Ukulele Ensemble
(a.k.a. Uke-atastrophe)
Explore the fun side of music-making with the all-ages Ukulele Ensemble, led by Kate Lucchese. No experience required, and loaner ukuleles are available.
The Ukulele Ensemble rehearses twice a month: a children and youth-oriented rehearsal after worship on first Sundays each month, and an offsite evening meeting on first Tuesdays.
The Ukulele Ensemble continues to meet (on Zoom and socially distanced) on first Tuesdays.
Songs of the Soul
Middle and high schoolers are invited to Songs of the Soul, led by Linda Crebbin-Coates.
From September through May, Songs of the Soul rehearses on Sunday mornings at 9:00 am in the East Bay School for Boys (Plymouth House), Room 4.
Songs of the Soul continues to meet (on Zoom) Sunday mornings.
Small Ensembles
Small Ensembles offer music frequently in worship. Vocalists, guitarists, drummers and instrumentalists of all stripes are welcome to share their music!
If you are interested in helping to lead congregational singing, please fill out

this form

.
Music in Our Community
The impact of First Church's musical life extends far beyond worship services. Our Sanctuary serves as a major venue for lectures and classical music performances in the Bay Area, regularly hosting world-class performances from Cal Performances, Philharmonia Baroque Orchestra, New Century Chamber Orchestra, Chanticleer and the American Bach Soloists.
We live out our faithful commitment to remaking the world through various musical collaborations and projects.
We collaborate annually with our sister church City of Refuge UCC in January and February to celebrate the legacy of the black church and to raise funds for local and international ministries!
Street Requiem
Our music program has also supported initiatives to combat homelessness, such as this performance of the Street Requiem, which raised over $14,000 for the Berkeley Women's Daytime Drop-in Center.
In addition, First Church sponsors Resonance, our award-winning concert series!